You are here
Mama Bass Productions brings back harm reduction to Detroit nightlife communities
Concerned about overdoses that have recently occurred, Sarah is pushing this progressive idea about harm reduction through her WIDE-EYED Wednesdays
"We need to protect ourselves and others by shining some light on one of the difficult truths of nightlife, rave, and festival communities." That's how Sarah Rogers, an active promoter of the electronic music events from Detroit, Michigan, and founder of Mama Bass Productions, begins to talk about the importance of harm reduction.
Concerned about overdoses that have recently occurred, Sarah is pushing this progressive idea about harm reduction through her WIDE-EYED Wednesdays. She is spreading awareness in her community by dedicating two of her events to the cause.
MIND, BODY, BEATS November, took place the 16th and the grand finale will take place at Tangent Gallery & Hastings Street Ballroom in Detroit on Wednesday, November (30).  The public will have the chance to watch talented Detroit-based deejays from two different stages. The mainn stage will have THAY finishing night with direct support from artists Loading…, Bob Actually, and Prim. On Stage 2, techno deejay, Dru Ruiz, will be the closing out the night after the performance of from DJ Seoul, Ben 10, and DJ Sphinx.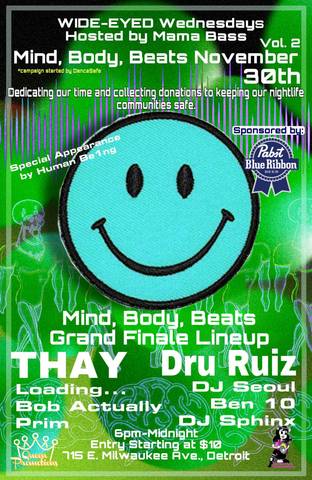 During the event, a wide range of social and environmental interventions will be explored with examples of how the public can educate themselves on how to be safe through peer education and harm reduction. All the participants are encouraged to donate money to help support Mama Bass Productions' endeavor of making sure there is a supply of drug test kits and fentanyl test strips available. DanceSafe has developed a new fentanyl test strip, coming out in December 2022, that is less likely to have false positives. Also, a vendor called Human Be1ng will be there to promote mental wellness as well. They transform problems and negative experiences into more positive experiences through peer support and life coaching.
"Education is the most valuable tool we have for our underground communities. We must understand that drug use does happen and overdoes is preventable. It's not only a question of public health, but of social responsibility. I'm thankful for the invitation, and it is awesome to be apart of such an important cause," highlights THAY. 
Despite the busy schedule, THAY will represent Brazil in another event in Detroit, where the artist is currently based and contributes to the local music scene thought 313 Amplified Project. The artist took a break from the process of releasing Dark Shadow, her new track that will be released in January by Detroit Record label SLUR, to return to the WIDE-EYED Wednesdays stage and support the cause. 
To learn more about DanceSafe, visit: https://dancesafe.org/r/MamaBass00/ 
For more resources please feel free to check out the following websites:
#saferpartying | Drugpolicy.org | Erowid.org | tripsit.me 
Originally, Sarah started off as a DanceSafe Affiliate, DanceSafe is a non-profit organization dedicated to harm reduction at live music events. "DanceSafe isn't your average public health nonprofit: we're a drug checking, earplug slinging, party servicing 501(c)(3) that was founded on social justice principles. While we're known for testing your drugs at festivals and events, we're all about supporting whole-person fulfillment from the top down and inside out. Our programs range from drug education to consent deep-dives to political advocacy to sexual health, and our amazing volunteers distribute information and resources in our fabled "DanceSafe booths" to event-goers across America," a quote from the about us section of DanceSafe's website.
 "These test kits can save the lives of our friends, our family members, and our fellow partiers. If you've had someone close to you overdose, you are not alone; we need to protect one another and bring light to this issue, so it doesn't persist. With that in mind, the entire month of November is dedicated to this cause—and your contribution directly impacts our ability to provide a safe environment for everyone involved in the scene," comments Sarah.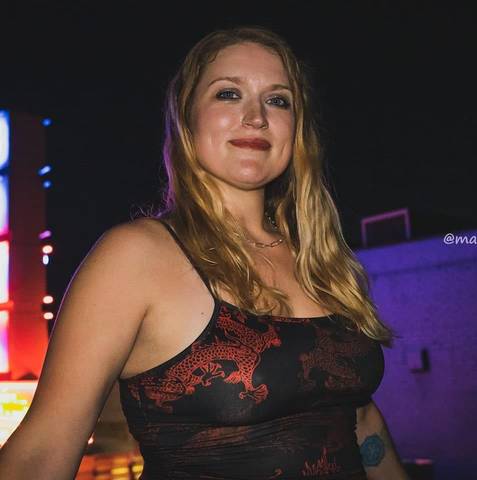 "There have been some overdose cases (all of which thankfully survived) that occurred at the venue I work for. My heart broke when hearing the news. I couldn't help but think that all of this could have been prevented with the proper resources available. And that is why I am working so hard so it does not happen at one of my events.  While speaking with Emanuel, the owner of DanceSafe, he suggested that it would be beneficial for me to become a volunteer and join the Michigan chapter, so I can help facilitate this for future events. I intend to ensure that people always have the opportunity and resources available to be safe. We do not encourage the use of drugs in any way. No drug is 100% safe, even after testing, but awareness of harm reduction will help reduce the chance of overdose, and we will have a community that is increasingly aware of the risks", warns Sarah.
If you support the cause, send donations to:
Venmo: @mamabass00 CASHAPP: $mamabass00
Detroit's Electronic Music Scene
WIDE-EYED Wednesdays (a Mama Bass Productions event) takes place twice a month at Tangent Gallery & Hastings Street Ballroom in Detroit. Each event has a theme and different genres of electronic music, one included an all-femme lineup that featured THAY, CASS, Mel Beatz, 3DEN DUBZ, Amature Waifu, and Dos Lopez.
And for a special cyberpunk New Year's Eve, Mama Bass Productions will throw a big party at a new location to honor the commemorative date with a special line-up composed of the deejays Henry Brooks, Kar Pow, Niko Fierro, Sinister Dosage, Andrea Kalajian, and Bostic to bring in the new year. Promotions done by Silan Anton (Queen Promotions), sound by Source Audio and Kyle Cole, and visuals by Wolfgang Dire.