You are here
Honey Gee discusses her music, career, show rituals and more: Interview
Despite facing a stressful first half of 2023, Honey Gee managed to find time to launch new music, tour Asia & Europe, and develop her own style, which she calls "energetic Phonk House" – a blend of Electro House and Phonk. We sat down with her to discuss about her recent success, her show rituals, music style and more.
Hello and thank you for joining us! Were you surprised by the growing success in 2023?
I am happily surprised to finally make a mark in the European Music Market. I take pride in being the first Thai female DJ to be signed by the German Music Label, Crash Your Sound. This year, I had the opportunity to perform in major German cities like Berlin, Hamburg, Munich, Frankfurt, and many more. Additionally, I had a fantastic 6-week festival and club tour throughout Thailand, which was amazing.
What was your most memorable moment in 2023 so far?
One of the most unforgettable moments was during a festival in Dortmund, Germany. After playing the last track of my set, the crowd started shouting "Zugabe" (Encore) several times. I played one more track, and the crowd's happiness made me incredibly joyful too. Another touching moment was when a fan in the audience gave me their shirt during my set. This act of appreciation was truly surprising since I usually give my worn shirts to the crowd after each show, along with my unique design and logo. The fan told me they did it because they loved the positive energy I brought to my performance, and that meant a lot to me.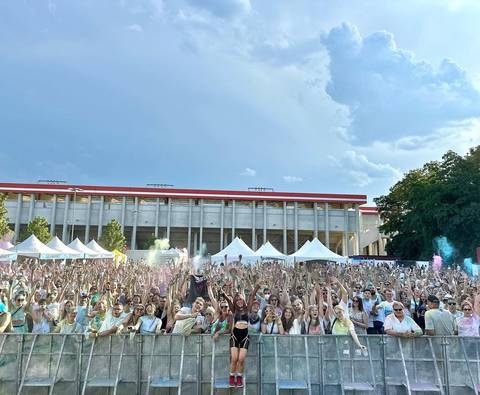 You were born in Bangkok. What role do you think this has played in your career?
Bangkok has played a significant role in shaping my career. The city is rich in culture, from its diverse food to its vibrant entertainment scene. The nightlife and street-food scene in Bangkok are particularly inspiring. The city's club scene is lively every night, attracting tourists from all over the world. Seeing people in the clubs having fun, dancing, and enjoying different styles of music motivated me to create music that brings happiness to people, much like the joy they experience with Thai street food.
How did you become an EDM DJane?
I used to frequent nightclubs with my friends, and one night, someone suggested, "Why don't you become a DJ?" The idea intrigued me since I loved listening to music and dancing. When I came across videos of David Guetta performing in front of massive crowds on YouTube, I was inspired and decided to become an EDM DJ. A friend who owned a club in Bangkok gave me the opportunity to practice with DJ equipment and learn from their resident DJ. After three months of practice, I had my first performance at her club, and the positive response from the crowd motivated me to pursue a career as a DJ.
People call you the creator of Phonk. How would you describe it, and what inspired you to create this style?
Phonk is a subgenre of Hip-Hop and Trap music that incorporates elements of Jazz and Funk. As someone who loves EDM, I found the sound elements of Phonk intriguing. I noticed that Phonk was not typically considered dance music, so I decided to experiment by mixing Phonk with House music, infusing it with energetic vibes and a touch of Electro House.
This fusion led me to coin the term "Phonk House" for my unique style.
You played at Insanity Nightclub DJMag Top 100 Club in Bangkok – is it a different crowd just because the club is famous?
Yes, playing at Insanity Nightclub, a DjMag Top 100 Club in Bangkok, does attract a different crowd. Generally, Thai people aren't known for dancing much, and many clubs in Thailand lack dance floors, with tables being the main feature. However, Insanity Nightclub consistently books top and famous DJs, attracting tourists from all over the world who are more inclined to dance. As a result, the atmosphere is lively and energetic, making it a different experience from other clubs in Thailand.
Is the audience in Asia different from the audience in Europe?
Yes, there are notable differences between the audiences in Asia and Europe. European audiences are incredibly enthusiastic about music and dancing. They embrace various music styles and fully enjoy the DJ's performance. On the other hand, Asian audiences, including Thai people, may be more reserved due to cultural factors. However, when they are in high spirits, they let go of their inhibitions and dance freely.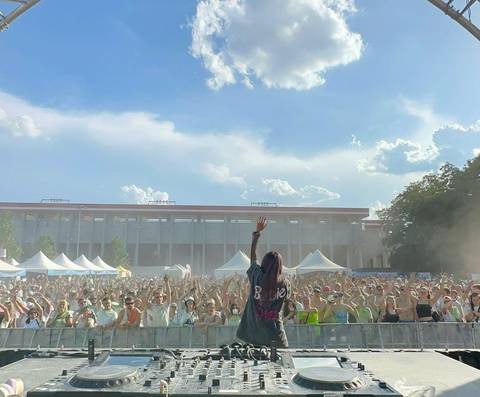 What is your pre-show ritual?
Before my shows, I practice meditation for 5-10 minutes, sometimes extending it to 15-30 minutes. This helps me feel relaxed and focused before stepping on stage.
The EDM scene is dominated by men. How does that make you feel?
I view the dominance of men in the EDM scene as a positive challenge. Art knows no gender; it is about passion and creativity. I don't dwell on the distinction between male and female DJs, and I'm driven to showcase my talent and passion regardless.
Who have you been listening to lately?
Lately, I've been listening to Kordhell and Raizhell a lot. They are among the first artists who represented Phonk music and their sound is powerful and cool with Phonk elements. I also enjoy listening to Hardwell, Calvin Harris, DJ Snake, Dimitri Vegas & Like Mike, and Steve Aoki from the EDM genre. Their music serves as inspiration for my Phonk House style as well.
Connect with Honey Gee
SoundCloud | Spotify | Facebook | Instagram | TikTok