You are here
DJane Mag celebrates 10 years; Top 100 DJanes 2023 vote is now open
With March being Women's History Month – and March 8 specifically being International Women's Day – DJane Mag is also celebrating 10 years of life!
About Us
DJane Mag is an online magazine with regional representatives on all continents that exists since March 2013 to promote female DJ talent. The magazine contains information about the life, work, interviews, latest music releases and videos of DJanes, information about events and concerts, the best festivals and tech innovations.
Why "DJane"?
The word "DJane" has French roots and is quite popular in France and Germany. It is slang meaning female DJ being chosen to define a shorter meaning for 'female DJ'. Over time, the word gained greater popularity among female DJs and in the media.
Ranking
The idea of creating an all-female ranking came after checking the lists of the most popular polls in the world like DJ Mag, for example, and finding less than 5% of female DJs elected. Check below the first list of DJane Mag's TOP 100 DJanes 2014 with several existing female talents at the time compared to DJ Mag's list in the same year.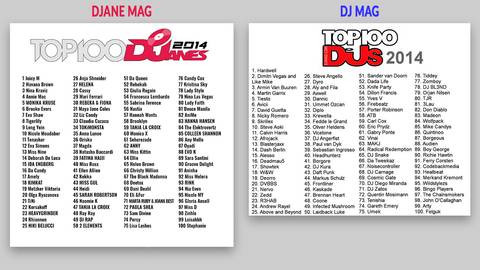 Top 100 DJanes 2023 voting now open
You will be able to vote exclusively on djanemag.com, following the link top100djanes.com or click on a button 'VOTE' in personal djanemag DJ account!
Starts of voting in all DJANEMAG regions will be announced via their social media. But be careful, the start dates in every region may vary, so stay tuned for social networks, all necessary information will pre-appear there.
Please be careful! Our profiles are only @djanemag, @top100djanes and a page, dedicated to clubs @top_50clubs. Pages of our official regional representatives start with DJANEMAG! (EX: @DJANEMAGBR @DJANEMAGIN @DJANEMAGLATAM etc.)
Several sites appeared, that are completely trying to copy our work using the same methods, colors, design, texts, and slogans and even similar or the same name! They try to imitate our activity in order to make a ranking and promote DJs of a particular booking, although, in fact, they have nothing to do with the brand DJANEMAG!
We are a magazine! We support female DJs, do our best to produce interesting news and unique content for you!
Voting is now open for our annual Top 100 DJanes poll. Support your favourite DJanes by voting here.
Here's to another 10 years ahead, we will continue our fight in defense of gender equality in the music industry.